We were fortunate enough to sit down with Manuel Ruiz Moriche, co-founder of ARK Architects, to discuss the beginnings of their company and their approach to creating beautiful, functional spaces. The company recently opened their new offices in Sotogrande, and we spoke to Manuel about the inspiration for the space and its unique business concept that includes architecture services, a building company, and project management. They also shared their thoughts on the importance of creating a sense of "home" in a building and how the field of neuroarchitecture informs their work.
Q- Can you tell us about the beginnings of ARK and the inspiration behind its founding?
A- ARK was founded 25 years ago by three friends who shared a common goal of pursuing their passion for engineering and architecture. Since then, we have expanded our team to around 30 talented individuals. We have built a reputation for delivering high-quality work and established ourselves as a trusted partner in the industry.
Q- Congratulations on the inauguration of your beautiful offices in Sotogrande. Can you tell us more about the design and inspiration behind the office space?
A- Thank you for your kind words. We aimed to create a space that felt like a home away from home, where our team and clients would feel comfortable and inspired. We believe that when people feel at ease in their surroundings, they are more productive and creative. Our goal was to create a space that reflects our values as a company, which include a focus on quality, attention to detail, and a commitment to excellence. We believe our office reflects these values and are proud to share them with our team and clients.
Q- How would you interpret your architectural style? How do you approach designing and creating spaces, and what are some of the key elements or principles that guide your work?
A- I believe that style is not the most important aspect to focus on in architecture. In my opinion, good architecture is defined by its ability to seamlessly integrate with its surroundings and meet the unique needs of its clients while also being well-constructed. If I had to describe my style, I would say that it combines classical and modern elements, resulting in a timeless aesthetic. However, I must admit that I am not particularly fond of discussing style, as I believe that the focus should always be on creating functional, beautiful spaces that enhance the lives of those who use them.
Q- Can you explain how ARK's business concept differs from traditional construction practices and what led you to offer a comprehensive package that includes architecture services, a building company, and project management?
A- Our approach is grounded in the belief that buildings are not just beautiful ideas on paper but tangible structures that must be built with precision and care. That's why we established our own building company over two decades ago, to ensure that our designs were executed with the utmost attention to detail. We understand that the construction process can be daunting for our clients, so we aim to provide them with a seamless experience by handling all aspects of the project under one umbrella. By doing so, we can be more efficient and precise in the building process, ultimately delivering a beautiful end result that exceeds our client's expectations. I believe this approach has helped make our company what it is today.
Q- In your experience, how do architects create a sense of "home" in a building, regardless of its size? And why do you think it's important for clients to feel at home in their space, regardless of how large it may be?
A- At ARK, our process is all about collaboration from the very beginning. We work closely with architects, interior designers, lighting specialists, landscaping designers, and our clients. The client's input is crucial to us because, ultimately, we are building their dreams. We take pride in bringing their vision to life and creating a space that truly reflects their personality and style.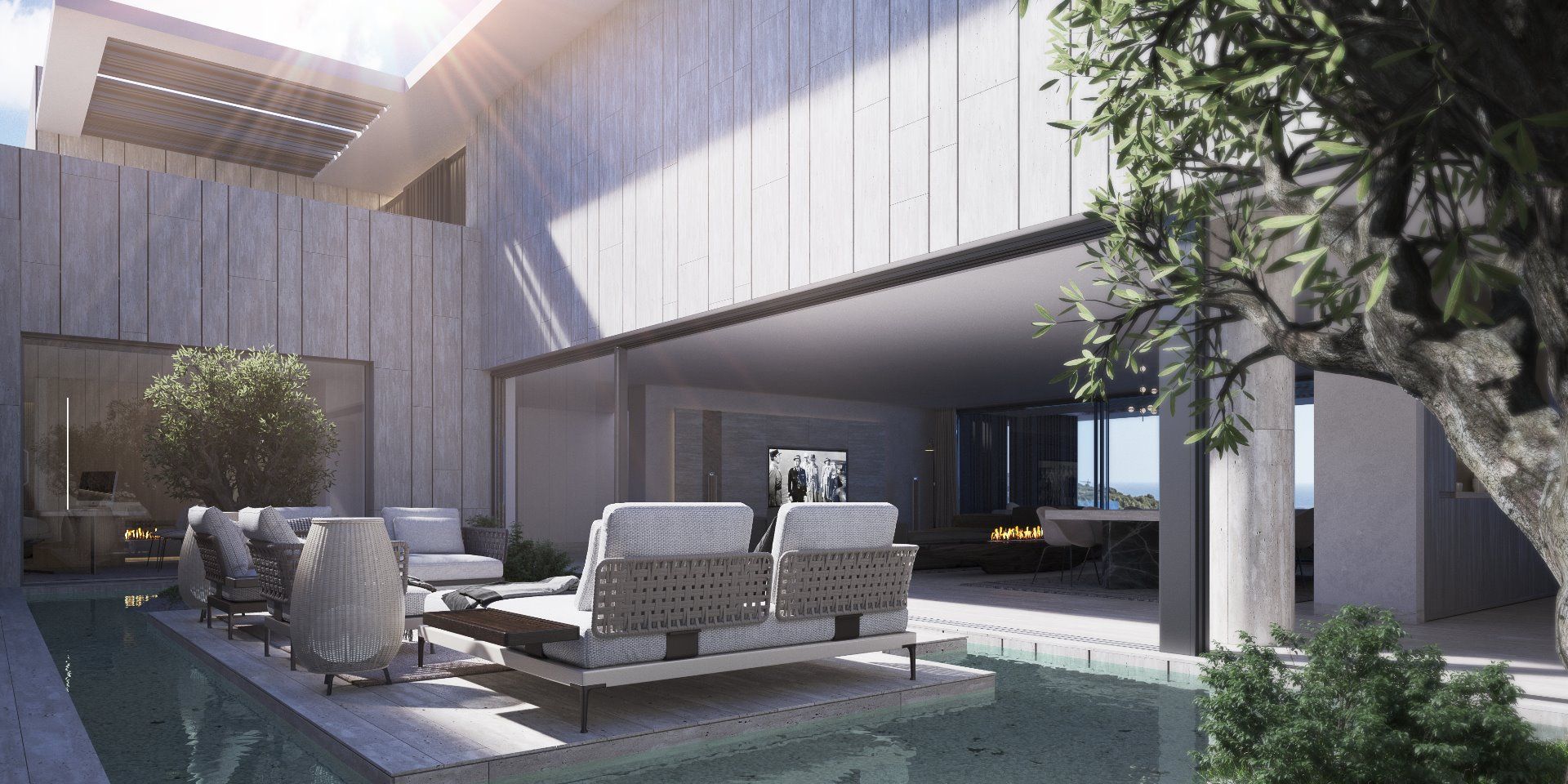 Q- What is your opinion on the current state of Sotogrande's luxury real estate market? With new investors coming in and prices for homes reaching up to 20 million euros, do you see this trend continuing in the future? As a developer with some of the most expensive homes in the area, do you believe that Sotogrande is a worthwhile location for luxury real estate investment?
A- Sotogrande is like a hidden gem on the Costa del Sol. The market there has been changing over the years, and an investment six years ago increased demand for properties and resulted in a rise in property prices. For instance, a project we worked on, El Mirador, a gated community of six villas, sold for prices ranging from 15 to 16 million euros, demonstrating a drastic market shift. Today, some Sotogrande clients receive offers of up to 20 million euros for their houses. Although Sotogrande has a distinct character compared to Marbella, it's worth keeping an eye on for the future.
Q- As someone who has been deeply involved in the building process and development of many luxury villas, what is your opinion on the current medium construction cost per square meter for one of your projects, compared to four years ago? How much of an increase have you observed?
A- Regarding the price per square meter for luxury homes, it's difficult to give an exact number because there are many factors to consider, such as the quality of materials, services, and indirect costs. However, as we control the whole process, we can be much more efficient and control costs. Considering everything, including quality and indirect costs, we could say that for a house of a thousand square meters, we could be moving between €3,500 per square meter and €4,000 per square meter, all-inclusive. Of course, the final cost will depend on the specific design and level of quality that the client wants to achieve, as not all designs are the same cost.
Q- Could you explain the concept of neuroarchitecture and how it relates to ARK Architects?
A- At ARK, we believe that good architecture has a profound impact on individuals, which is why we're interested in the field of neuroarchitecture. This scientific approach allows us to measure how good architecture can affect the brain and body. Neuroarchitecture isn't just about testing people's responses to different buildings or spaces. It's about understanding how architecture can influence our thoughts, feelings, and behaviour. We don't conduct experiments where we attach sensors to people's heads; rather, we approach it as a part of our investigation into the power of architecture. We want to understand how the built environment can create specific sensations and emotions and how it can change people from the inside out.
Q- In your projects that I've seen, I noticed a significant emphasis on landscaping, which creates a unique feeling when walking into any of your properties. Does landscaping play an important role in your architecture design, and is this attention to detail in landscaping intentional?
A- As an architect, I believe every project has three crucial starting points: the place, the location, and the client. It's essential for me to understand the client's needs, analyse their tastes, and listen to their ideas. Then, I delve into the place, location, light, topography, and nature to create an idea that complements the location.
When it comes to all-level houses, my goal is to make them integrated into the location. To achieve this, landscaping plays a vital role. It links the architecture to the garden and the surrounding nature, making it look integrated. In fact, landscaping is so important to me that we created an interior landscaping design area over 15 years ago. This helps us start a project by analysing the location, nature, and place while considering the garden.
One of my favourite quotes from the famous Mexican architect Barragan is, "I like to design houses that look like gardens." This resonates with me because I aim to create a priceless feeling of living in nature. When I begin a project, I'm always thinking about what I can give back to the place to be part of it and allow me to insert the architecture into it seamlessly.
Q- What do you think will happen with architecture in the next 10/20 years? Where are we heading to?
A- Indeed, architecture is going to evolve with technology. The Industrial Revolution changed the world over a century ago, and now we're seeing a new revolution from the internet and technology. As a result, our homes are becoming increasingly technological, with new advancements being introduced yearly. In the near future, we may be able to enter our homes and speak to them, with our houses responding accordingly. Technology integration will likely be a key factor in the future of architecture as our lives continue to change. For instance, working from home has become more common, and our lifestyles have evolved. As such, the design of homes must adapt to these changes and cater to our needs, which will probably involve incorporating new technologies.